KEF Blade Meta
Posted on 18 February 2022
- Posted in
KEF BLADE Meta
Flagship Floorstanding Loudspeakers
Obsessed with sound quality and committed to bringing a superior listening experience, KEF has been pioneering innovative acoustic engineering since 1961. In 2009 we gave our engineers free rein to create a speaker to showcase KEF's technology leadership and powers of innovation with no preconceptions and restrictions, they came up with the revolutionary Concept Blade – the world's first Single Apparent Source loudspeaker. The concept was further refined and developed for production in 2011, when Blade became HiFi loudspeakers that serious audiophiles could actually own.
Blade is an attitude. It's about exploring the art of the possible and pushing boundaries of HiFi sound without preconceptions which is why the latest version of Blade benefits from our latest acoustic innovations: Metamaterial Absorption Technology1 (MAT™), a bespoke 12th generation Uni-Q driver array and a host of other improvements.
The Blade series consists of two models: Blade One Meta and Blade Two Meta. Both sharing the same DNA, the same technology and the same striking aesthetic, Blade Two Meta is on a slightly smaller scale.
Summary of features
Single Apparent Source technology revolutionises the orientation of the low, mid, and high frequency drivers to deliver sound you hear to be more real and immersive
Metamaterial Absorption Technology eliminates 99% of high-frequency distortion for pure, natural sound
Bespoke 12th generation Uni-Q with MAT driver array for exceptional acoustic accuracy
Two pairs of force-cancelling LF drivers deliver clean, massively extended bass
Enhanced crossover design fine-tuned the signal path for maximum clarity
Optimised cabinet design for best acoustic performance
Two models: Blade One Meta, Blade Two Meta
Available in eight finishes
Customised finishes are available upon request
Single Apparent Source Technology
At the heart of Blade lies the Single Apparent Source technology. Single Apparent Source is an extension to the iconic Uni-Q driver array, the building block of the KEF signature sound. The technology aims to achieve the acoustic ideal of a point source, where low, mid and high frequencies radiate from one point.
Perfectly calibrated drivers that cover the speaker's entire bandwidth are configured so all frequencies appear to radiate from one single point. With Blade, four low-frequency drivers in symmetrically opposing pairs are tightly packed around a two-way Uni-Q driver where the mid-frequency and high-frequency share the same acoustic centre.
The result is noticeably more precise imaging and highly accurate sound across a wider area. This is what makes Blade incredibly coherent across all audible frequencies; what you hear is more real and immersive.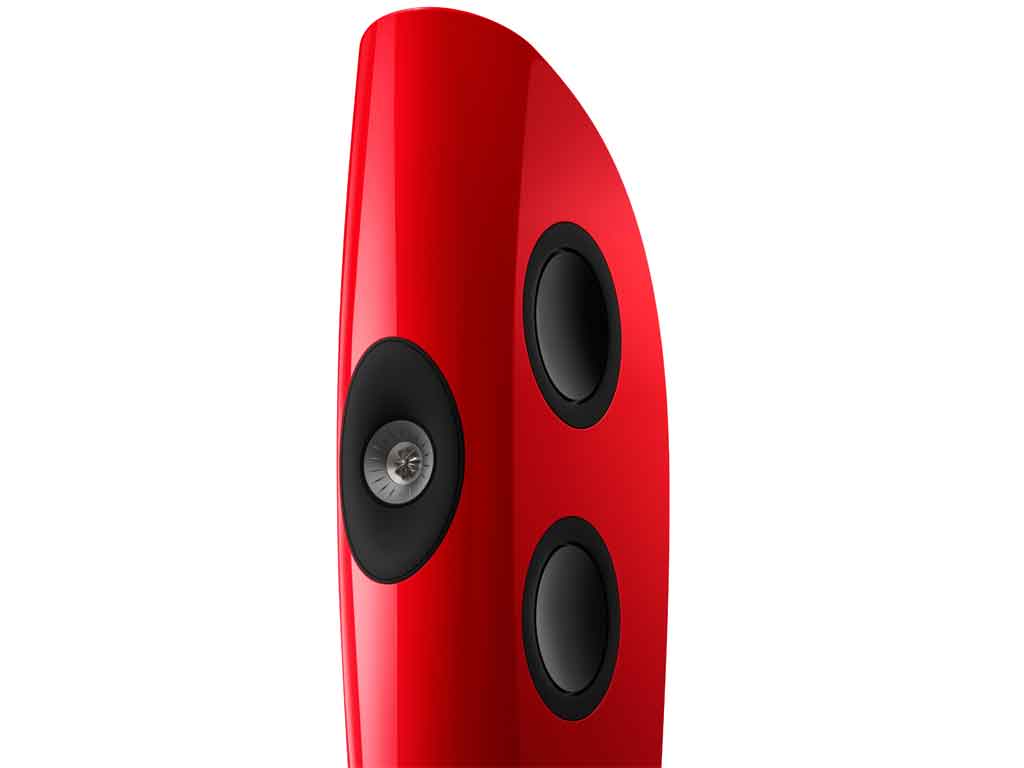 Revolutionary sound absorption with MAT™
A truly revolutionary tool in the KEF acoustic armoury, Metamaterial Absorption Technology (MAT) is a highly complex maze-like structure, where each of the intricate channels efficiently absorbs a specific frequency.
When combined, the channels act as an acoustic black hole, absorbing 99% of the unwanted sound that comes from the rear of the tweeter, eliminating the resulting distortion and providing a purer, more natural acoustic performance.
A result of joint development with the Acoustic Metamaterials Group, using MAT breaks completely new ground in loudspeaker design, and once again demonstrates KEF's unrelenting passion for developing new technologies to improve your listening experience. Metamaterials are specially developed structures that use existing materials in such a way that they exhibit new, desirable properties that are simply not found in naturally occurring substances.
KEF Blade Meta & KEF Blade Two Meta available online and in our Norwich shop.